Producenci
Produkty polecane
Bestsellery
QNAP TS-932PX-4G
Wysyłka do:
Cena:
2 807,99 zł
2807.99
PLN
Opis
Kompaktowy, 9-wnękowy NAS z funkcją 10GbE SFP+ i 2,5GbE usprawniającymi zadania obsługi plików
Czterordzeniowy TS-932PX 1,7GHz oferuje dziewięć wnęk dysków w konstrukcji 5-zatokowego NAS. Dzięki pięciu 3,5-calowym wnękom dysków SATA 6 Gb/s i czterem 2,5-calowym wnękom SATA 6 Gb/s, model TS-932PX zapewnia możliwość tworzenia hybrydowej infrastruktury HDD/SSD, zwiększającej wydajność aplikacji. Dzięki dwóm portom 10GbE SFP+ i dwóm portom 2,5GbE LAN model TS-932PX obsługuje kolejne generacje sieci, usprawniając wymagające dużej przepustowości aplikacje i zapewniając bardziej płynny dostęp do plików i ich udostępnianie.

Dwa porty 10GbE SFP+ i dwa porty sieciowe 2,5GbE RJ45 usprawniają zadania wymagające dużej przepustowości i przyspieszają udostępnianie plików.

HBS zapewnia kompleksowe tworzenie kopii zapasowych i odzyskiwanie danych; QuDedup deduplikuje dane u źródła w celu optymalizacji wykorzystania pamięci masowej i przepustowości, oraz przyspieszenia wykonywania kopii zapasowych.

Migawki zapisują stan systemu, umożliwiając ochronę plików i danych przed ich przypadkowym usunięciem i atakami złośliwego oprogramowania.

Bramy pamięci masowej w chmurze umożliwiają zastosowania w chmurze hybrydowej, dodatkowo umożliwiając rezerwację pamięci podręcznej na serwerze NAS, zapewniając dostęp do danych w chmurze z niewielkimi opóźnieniami.

Technologia automatycznego poziomowania Qtier™ i pamięć podręczna SSD zapewniają stałą optymalizację pamięci masowej.

Możliwość zwiększenia pojemności pamięci masowej urządzenia TS-932PX przy użyciu modułów rozszerzających QNAP TR RAID lub TL JBOD.
Energooszczędny, czterordzeniowy procesor
Model TS-932PX z zainstalowanym czterordzeniowym 64-bitowym procesorem 1,7 GHz ARM Cortex-A57 i pamięcią 4 GB DDR4 RAM (z możliwością rozbudowy do 16 GB) zapewnia wysoką energooszczędność, nie obniżając wydajności systemu lub aplikacji.
Łączność wysokiej prędkości 10GbE i 2,5GbE
Model TS-932PX posiada dwa porty 10GbE SFP+ i dwa porty 2,5GbE LAN RJ45, zapewniając obsługę gotowych rozwiązań wysokiej szybkości oraz trunkingu portów i failover, wzmacniając infrastrukturę sieci. Firma QNAP zapewnia także wiele innych rozwiązań połączeń sieciowych wysokiej szybkości, w tym zarządzane/niezarządzane przełączniki 10GbE/2,5GbE i karty sieciowe, co pozwala na utworzenie ekonomicznego środowiska sieci wysokiej szybkości.

Możliwość podwyższenia wydajności NAS dzięki 2,5-calowym dyskom SSD SATA
Dyski SSD mogą znacząco zwiększyć wydajność NAS bez konieczności dokonywania dużych inwestycji. Model TS-932PX obsługuje technologię buforowania SSD, automatyczne poziomowanie Qtier™ i nadmiarową alokację SSD, umożliwiając zrównoważenie wydajności pamięci masowej, alokacji pamięci masowej i wydatków związanych z działem IT.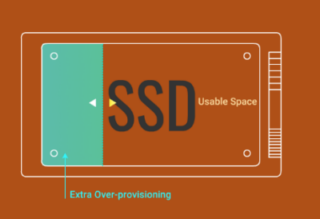 Używaj migawek, aby chronić swoje dane
Migawki pozwalają w pełni zapisać stan systemu NAS oraz metadane i mogą być użyte do szybkiego przywrócenia plików do wcześniej zapisanych stanów, jeśli pliki zostaną przypadkowo usunięte/zmodyfikowane lub jeśli system zostanie uszkodzony przez złośliwe oprogramowanie. Migawki opracowane przez firmę QNAP są oparte na blokach i zapisują wyłącznie zmienione dane. Daje to nie tylko oszczędność miejsca w pamięci masowej, ale także skraca czas tworzenia kopii zapasowych i odzyskiwania danych. Model TS-932PX obsługuje do 256 migawek na serwer NAS oraz maksymalnie 64 migawek na wolumin lub jednostkę LUN.

Wielopunktowe tworzenie kopii zapasowych plików, dostęp do nich i możliwość ich synchronizacji
Model TS-932PX obsługuje popularne protokoły do udostępniania plików (w tym SMB/CIFS, AFP i NFS) dla urządzeń z systemem Windows®, Mac® i Linux®/UNIX®. Za sprawą Qsync (narzędzia zmieniającego serwer QNAP NAS w bezpieczne i pojemne centrum danych do synchronizacji plików) każdy plik przesłany do serwera TS-932PX jest udostępniany wszystkim powiązanym urządzeniom, takim jak komputery, laptopy i urządzenia mobilne. Oprogramowanie Hybrid Backup Sync ułatwia tworzenie kopii zapasowych lub synchronizację danych zapisanych w modelu TS-932PX na innym serwerze QNAP NAS, zdalnym serwerze lub pamięci masowej w chmurze (w tym Microsoft One Drive®, Google Drive™ i Dropbox®) w celu łatwego przywracania danych.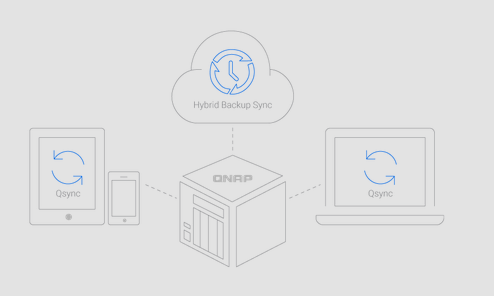 Inteligentne zarządzanie zdjęciami w oparciu o sztuczną inteligencję
Aplikacja QuMagie Core zapewnia integrację wykrywania obrazów w oparciu o sztuczną inteligencję, która umożliwia rozpoznawanie twarzy, identyfikację podmiotu i oznaczanie geograficzne zdjęć. Podobne zdjęcia są podzielone według kategorii w albumach takich jak "Ludzie", "Miejsca" i "Rzeczy". Aplikacja QuMagie jest także wyposażona we wbudowaną funkcję przewijania linii czasu, personalizowane okładki folderów, wyświetlacz iOS® Live Photo i zaawansowane narzędzie wyszukiwania, zapewniając doskonałe rozwiązanie do zarządzania zdjęciami i ich udostępniania.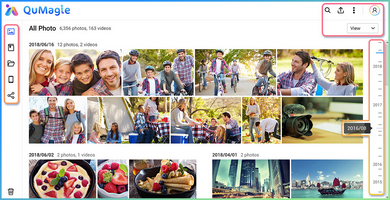 Dostęp do danych w chmurze i do bram pamięci masowej w chmurze z niewielkimi opóźnieniami
Wdrażając bramy pamięci masowej w chmurze i aktywując lokalną pamięć podręczną w modelu TS-932PX, można płynnie korzystać z chmury na potrzeby magazynowania, tworzenia kopii zapasowych i przywracania danych z dostępem o niskich opóźnieniach, zapewniając innowacyjne rozwiązanie z wykorzystaniem chmury hybrydowej.

HybridMount-Brama chmury opartej na plikach
Dzięki połączeniu z chmurą możesz w elastyczny sposób powiększać pojemność pamięci. Możesz wykorzystać aplikacje QTS do zarządzania i edytowania plików w chmurach oraz monitorowania plików multimedialnych. Rozwiązanie HybridMount jest idealne do współpracy online na serwerze plików i analizy danych na poziomie plików.

Chmura VJBOD-Brama chmury opartej na blokach
Chmura VJBOD obsługuje tworzenie kopii zapasowych danych NAS w opartej na blokach pamięci w chmurze. Transmisje danych opartych na blokach polegają na przesyłaniu losowych danych i dużych plików do chmury w oparciu o bloki; przesyłane są zmiany w woluminach opartych na blokach i w jednostkach LUN. Jest to idealne rozwiązanie do tworzenia kopii zapasowych jednostek LUN, baz danych i poufnych plików.
Łatwe wyszukiwanie plików i ich automatyczna organizacja
Model TS-932PX zapewnia większą wygodę przy zarządzaniu plikami. Możliwość szybkiego wyszukiwania plików przy użyciu aplikacji Qsirch i ich automatycznej archiwizacji przy użyciu aplikacji Qfiling.
Wyszukiwanie plików
Aplikacja Qsirch pozwala szybko znaleźć obrazy, pliki muzyczne, nagrania wideo, dokumenty, wiadomości e-mail i inne za pomocą słów kluczowych, kolorów i różnych filtrów.

Automatyczne archiwizowanie
Aplikacja Qfiling automatyzuje organizowanie plików lub recykling w oparciu o samodzielnie konfigurowane zasady, znacznie zwiększając wydajność pracy.
Bezpieczny zdalny dostęp do QNAP NAS
Przy użyciu usługi myQNAPcloud Link można uzyskać dostęp do plików oraz udostępniać, pobierać i zarządzać plikami zapisanymi na serwerze NAS w siedzibie głównej za pośrednictwem Internetu. Serwer QNAP NAS obsługuje także usługi VPN świadczone zdalnym pracownikom, zapewniające dostęp z Internetu do serwera NAS i zasobów w prywatnej sieci. Można także skorzystać z Klienta urządzenia QVPN, działającego w oparciu o oryginalny protokół QBelt firmy QNAP, umożliwiającego łatwe łączenie się z modelem TS-932PX i korzystanie z narzędzi do pomiaru w celu poznania szybkości połączeń VPN i historii połączeń.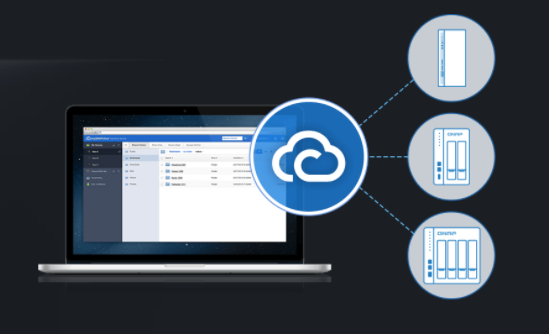 Elastyczna i ekonomiczna rozbudowa pamięci masowej
Firma QNAP zapewnia kilka sposobów rozbudowy pamięci masowej urządzenia TS-932PX w celu przechowania coraz większej ilości danych: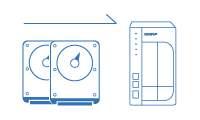 Możliwość zwiększania pojemności pamięci RAID
Dyski o mniejszej pojemności z możliwością wymiany podczas pracy na dyski o większej pojemności, aby zwiększyć pojemność modelu TS-932PX.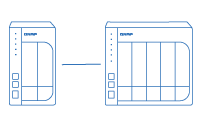 Możliwość montowania modułów rozszerzających
Połącz dwa moduły rozszerzające (4-wnękowy TR-004, 2-wnękowy TR-002) lub jeden 8-wnękowy TL-D800C JBOD, aby przy użyciu Menedżera migawek i pamięci masowej zarządzać zwiększaniem pojemności pamięci NAS.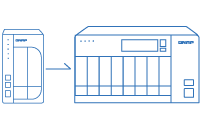 Migruj do nowego NAS
Zainstaluj dyski twarde NAS w większym serwerze QNAP NAS, zachowując wszystkie istniejące dane i konfiguracje.
Klucz do większej produktywności

QVR Pro
Możliwość stworzenia bezpiecznego środowiska do monitoringu bez konieczności stosowania dodatkowego oprogramowania. Zapewnia bezpłatne, wbudowane kanały i możliwość zakupu licencji QVR Pro w celu wdrażania sieci monitoringu na dużą skalę.

Centrum powiadomień
Konsoliduje wszystkie zdarzenia, alerty i powiadomienia w systemie QTS w celu zapewnienia łatwego zarządzania NAS, oferując użytkownikowi nieustanny dostęp do aktualnych informacji o stanie NAS.
Security Counselor
Portal bezpieczeństwa służący do sprawdzania słabych punktów i przedstawiania zaleceń dotyczących zwiększenia bezpieczeństwa NAS. Zawiera on także oprogramowanie antywirusowe i program do usuwania złośliwego oprogramowania.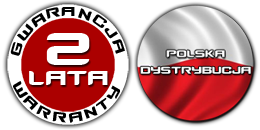 Sprzęt
Procesor
Procesor
AnnapurnaLabs Alpine AL324 ARM® Cortex-A57 quad-core 1.7GHz processor
Architektura procesora
64-bitowy ARM
Koprocesor arytmetyczny FPU
Tak
Mechanizm szyfrowania
Tak
Pamięć
Pamięć systemowa
4 GB SODIMM DDR4 (1 x 4 GB)
Maksymalna pojemność pamięci
16 GB (1 x 16 GB)
Gniazdo pamięci
1 x SO-DIMM DDR4
Pamięć Flash
512 MB (ochrona systemu operacyjnego przed podwójnych rozruchem)
Przechowywanie
Wnęka dysków
5 dysków 3,5-calowych + 4 dyski 2,5-calowe SATA 6 Gb/s
Kompatybilność dysków
3,5-calowe wnęki:
3,5-calowe dyski twarde SATA
2,5-calowe dyski twarde SATA
2,5-calowe dyski SSD SATA
2,5-calowe wnęki:
2,5-calowe dyski SSD
Wymieniany podczas pracy
Tak
Złącza
Port 2,5 Gigabit sieci Ethernet (2,5G/1G/100M)
2
Port 10 Gigabit sieci Ethernet
2 x 10GbE SFP+
Ramka Jumbo
Tak
Port USB 3.2 Gen 1
3
Cechy fizyczne
Wskaźniki LED
Stan systemu, LAN, USB, HDD1–5, SSD1–4
Przyciski
Zasilanie, Reset, Kopiowanie USB
Wymiary urządzenia
182,7 × 224,6 × 224,1 mm
Waga (brutto)
4,99 kg
Środowisko pracy
Temperatura pracy
0 - 40˚C / 32~104°F
Wilgotność względna
5–95% bez kondensacji, temperatura mokrego termometru: 27 ˚C (80,6 ˚F)
Zasilacz
Zewnętrzne, 120 W, prądu przemiennego 100–240 V
Wentylator
1 x 140mm, 12 V prądu stałego
Poziom dźwięku
18,6 db(A)
Złącze bezpieczeństwa Kensington
Tak
Maks. liczba jednoczesnych połączeń (CIFS)
1500
Inne
Oprogramowanie
System operacyjny
QTS 4.4.2 (embedded Linux)
Obsługiwane systemy operacyjne
Apple Mac OS 10.10 or later
Ubuntu 14.04, CentOS 7, RHEL 6.6, SUSE 12 or later Linux
IBM AIX 7, Solaris 10 or later UNIX
Microsoft Windows 7, 8, and 10
Microsoft Windows Server 2008 R2, 2012, 2012 R2 and 2016, 2019
Obsługiwane przeglądarki
Apple Safari 7 or later
Google Chrome
Microsoft Internet Explorer 10 or later
Mozilla Firefox
Obsługiwane języki
Chinese (traditional and simplified), Czech, Danish, Dutch, English, Finnish, French, German, Greek, Hungarian, Italian, Japanese, Korean, Norwegian, Polish, Portuguese (Brazil), Romanian, Russian, Spanish, Swedish, Thai, and Turkish
Obsługiwane systemy plików
Internal hard drive (EXT4)
External hard drive (EXT3, EXT4, NTFS, FAT32, HFS+, and exFAT)
Sieć i przełącznik wirtualny
TCP/IP: Dual stack (IPv4 and IPv6)
Jumbo frame
Port trunking (Link aggregation)
DHCP server and client
RADVD
USB Wi-Fi adapter
Virtual switch
Static Route
NCSI (Network Connectivity Status Indicator)
DDNS settings (Customize & Multiple Service)
Web Server
HTTP/HTTPS Connections (TLS 1.0/1.1/1.2)
Supports WebDAV Connection
Supports Virtual Host (Max: 32)
Importable SSL Certificate
Zabezpieczenia
Network access protection with auto-blocking (SSH, Telnet, HTTP(S), FTP, CIFS/SMB, and AFP)
Host access control for shared folders (CIFS/SMB)
AES 256-bit folder-based and volume-based encryptions which are validated by FIPS 140-2 CAVP (Cryptographic Algorithm Validation Program)
256-bit external drive encryption (AES)
Importing of SSL certificates from Let's Encrypt
Instant alerts through email, SMS, push service, and audio
2-step verification
Zarządzanie pamięcią masową
Supported RAID types: RAID 0, 1, 5, 6, 10, 50, 60, JBOD, Single
RAID Hot Spare and Global Hot Spare
RAID Rebuild Speed Customization
Online RAID capacity expansion
Online RAID level migration
SSD RAID Over-provisioning
SSD RAID Performance evaluation (with SSD Profiling Tool)
SSD TRIM for RAID 0,1,10
Bitmap support
Disk auto S.M.A.R.T. data migration
Disk bad block scan and S.M.A.R.T test.
Disk bad block recovery
Disk secure data erase
Ironwolf Health Management
Storage pools
Qtier™ Data Tiering Technology
Flexible volumes and LUNs with thin provisioning and space reclaiming
Online volume expansion
Volume type conversion
Volume shrink
Storage space utilization
Snapshots
Storage expansion using QNAP expansion units
JBOD enclosure roaming
SSD read-only and read-write cache
SSD write-only cache
iSCSI (IP SAN)
iSCSI targets with multiple LUNs per target
LUN mapping (LUN can be moved between iSCSI and FC)
LUN masking
Online LUN capacity expansion
SPC-3 persistent reservation
MPIO & MC/S
iSCSI LUN backup, one-time snapshot, and restoration
Virtual disks using iSCSI initiator
Stack chaining master
VJBOD Cloud
VJBOD Cloud is a block-based storage gateway solution that allows you to backup the storage space (LUN/Volume) on your local NAS using cloud space from cloud services providers such as Amazon, Azure, and Google Cloud.
VJBOD Cloud now supports one-to-one pairing between cloud volumes/LUNs and local stored spaces.
VJBOD Cloud now supports Amazon S3 Azure, BackBlaze, HuaWei Cloud, Alibaba Cloud, HKT, Google Cloud, OpenStack, RackSpace, Wasabi cloud, IBM cloud object storage service.
VJBOD Cloud now supports local stored mode, which means that data can be stored on the NAS and the data can be backed up to the cloud.
VJBOD Cloud now supports 20 recovery points for recovering volumes/LUNs.
Notification Center
Added support for sending notifications via SMS center (SMSC) or providers, including Nexmo, Twilio, and Clickatell.
Added Outlook as an SMTP service option.
Added support for sending notifications via instant messaging applications, including Skype and Facebook Messenger.
Added support for Overview and History in Notification Center.
Added support for creating custom notification rules to specify notification criteria, including application categories, severity levels, and keywords.
Delivery method and message recipient settings are now more flexible.
Added support for creating multiple notification rules at the same time.
Added support for sending notifications for a single system event.
Zarządzanie energią
Wake-on-LAN
Standby mode for internal drives
Scheduled power on and off
Automatic power on after power recovery
USB and network UPS support with SNMP management
Zarządzanie prawami dostępu
Multiple user creation
User data importing and exporting
User quota management
Local user access control (AFP, CIFS/SMB, FTP, and WebDAV)
Application access control (File Station, Music Station, Photo Station, and Video Station)
Subfolder permissions (AFP, CIFS/SMB, FTP, and File Station)
Uwierzytelnianie domeny
Microsoft Active Directory (AD) and domain controller support
LDAP server and client
Domain user login (AFP, CIFS/SMB, FTP, and File Station)
myQNAPcloud
Free host name registration (DDNS)
Optional myQNAPcloud SSL certificates (DDNS)
Auto router configuration using UPnP
Web-based file manager with HTTPS 2048-bit encryption
CloudLink for remote access without complex router setup
Qsync
File syncing across multiple devices with SSL secure connection
Selective synchronization for specific folders or subfolders
Team folders as file center for better collaboration
File sharing using email links
Policy settings for conflicting files and file type filter
Version control for a maximum of 64 versions
Unified privilege and configuration management
Central configuration mode Remote erase and restore
Qsync client supported platforms: Windows, Mac, Ubuntu, Android and iOS
Monitor zasobów
Monitoring of NAS system resources such as CPU, memory and network
Monitoring of NAS storage resources such as volumes, RAID, and disk activity
Monitoring of NAS application resource use
Creation of extra swap space when SSDs are installed
Wsparcie
Reporting of issues to the QNAP support team, with automatic collection of system information
Remote connection between QNAP support engineers and NAS for issue resolution (with user permission)
Administracja sieci
Multi-window, multitasking system management
Smart toolbar and dashboard for system status display
SNMP versions 2 and 3
Resource monitor
Network recycle bin
Comprehensive logs (events and connections)
Syslog server and client
Backup and restoration of system settings
Qmanager: Mobile application for remote system monitoring and management
Qboost
Serwer plików
File sharing across Windows, Mac, and Linux/UNIX
Microsoft networking (CIFS/SMB)
Apple networking (AFP)
NFS version 3/4 services
Windows ACL (CIFS/SMB)
Advanced folder permissions (AFP, CIFS/SMB, and FTP)
Shared folder aggregation (CIFS/SMB)
FTP Server
FTP, SFTP and TFTP protocols
FTP over SSL/TLS (explicit FTPS)
FXP support
File Station
Integrate with HybridMount which supports File Cloud Gateway and File Station Mount mode. File Station Mount mode supports
Restore QDFF files and folders with HBS 3
Document viewing using Office Online, Google Docs, and Chrome extension
Microsoft Office file editing using Google Docs, Sheets, and Slides
ISO file mounting (maximum: 256 ISO files)
Mount smart phones as external storage
Read access for compatible optical disc drives
Read access for compatible smartphones (MTP)
Download and upload link sharing
File dragging and dropping (Chrome and Firefox)
File compression (ZIP and 7z)
Download link creation and sending for publicly shared files, with expiration date and password protection
Subtitle display (SRT and UTF-8)
Slideshow playback in media viewer
Convert image files to pdf by "Image2PDF" integration
Qfile: Mobile app for file browsing and management
Qfiling
Auto filing
Recipe function
Archiving through iSCSI, USB, DVD and remote NAS
Advanced settings
HBS (Hybrid Backup Sync)
Cloud storage backup to Amazon Glacier, Amazon S3, Azure Storage, Google Cloud Storage, HKT Object Storage, OpenStack Swift, WebDAV
Cloud storage syncing with Alibaba Cloud, Amazon Drive, Amazon S3, BackBlaze B2, Box, Dropbox, OneDrive, Google Drive, HiDrive, hubiC, OneDrive, OneDrive For Business, ShareFile, Yandex Disk
RTRR server & client with bandwidth control
Rsync server with download bandwidth control
Remote server syncing (CIFS/SMB, FTP, Rsync, and RTRR)
Scheduled backup to local and remote storage spaces
Backup versioning Encryption, compression, and file filters
Centralized management for backup, restoration, and sync jobs
Support for Apple Time Machine Data backup to multiple external storage devices
Desktop backup with QNAP NetBak Replicator for Windows
Support for the following third-party backup software: Veeam Backup & Replication, Acronis True Image, Arcserve Backup, Retrospect, Nakivo Backup & Replication, and Veritas Backup Exec
Multimedia Console
Integrating indexing, transcoding, thumbnail generation, and content management.
New content management design, configuring content sources for QTS multimedia applications.
View the status of multimedia apps and services all on the same screen.
QuMagie
Browse photos in timeline view or folder view.
Virtual albums and smart albums.
AI-assisted photo management, classifying people, things, places, etc.
Photo Station
Photo organization by thumbnail, list, timeline, or folder
Virtual and smart albums
Validity control for album sharing Photo tagging with text, colors, and ratings
Slideshows with background music and transition effects
Album configuration backup and restoration
Advanced folder permissions
Support for domain users
Qphoto: Mobile application for online browsing and sharing
Music Station
Music playing and sharing through web browsers
Music streaming to multiple devices
Changing of album covers through Google search or by uploading photos
Internet radio (MP3)
Eight music alarms
Switching between spotlight mode and manage mode Advanced search
Scrolling lyrics
Qmusic: Mobile application for music streaming and management
Video Station
Video organization by thumbnail, list, timeline, or folder
Virtual and smart collections
Video tagging with text, colors, and ratings
Video link sharing through social media and email
Movie information and poster display from Internet sources or user-uploaded files
Subtitle display (SRT, ASS, SSA)
Subtitle search and downloading
Subtitle file importing
Subtitle display style adjustment
Playback speed adjustment
Direct video streaming for certain file formats
Facebook login
Advanced folder permissions
Support for LDAP users
Video uploading to YouTube and Youku
Multi-zone video display
Qvideo: Mobile application for online video browsing and management
Container Station
Support for LXC and Docker
Application downloading from the built-in Docker Hub Registry
One-click installation Container importing and exporting
Console mode
Three networking modes (Note: Docker containers support Bridge, NAT, and Host mode. Linux containers (LXC) support only NAT.)
Auto-start containers
Docker certificate downloading
Private registry addition
Application repository for switching to any repository on GitHub.com
Qsirch
Full-text search
Data distribution using a bar chart
Previews for photos, music, videos, PDFs, Gmail, and others
Advanced search operators and search scope
Customized search filters with included or excluded conditions
Related files suggestion in Viewer
Chrome, Firefox and Safari extension
QVR Pro
Free 8 built-in camera channels for all models
Support for using QVR Pro as the motion detector
Camera management across different networks
Pre-allocation of dedicated recording spaces
User-defined trigger events and corresponding actions
Data sources paired with cameras for quick search
Network interfaces assigned to each camera for recording sessions
Support for RTSP and WebRTC
Support for exporting and importing camera connection information as CSV files
Integration with QVR Pro Client for viewing live and recorded surveillance videos
Daily auto backup for QVR Pro configuration files
Support for importing recordings
Support for recording H.264 camera video streams
QVR Pro Client (Desktop)
Instant switch between Live and Playback modes
Dynamic and adjustable layouts for camera and E-map views
Qdewarp technique for dewarping fisheye and 360-degree cameras
Region of interest for each channel
Support for adding and editing cameras on QVR Pro Client
Hardware acceleration for fisheye cameras
Video wall (up to 8 monitors)
Hardware acceleration on Windows, Mac, Ubuntu, and HybridDesk Station (Optional graphics card)
Multithreaded decoding
Synchronized video playback
Support for specifying exported recordings on the timeline
Virtual keyboard (for HybridDesk Station version) (Optional graphics card)
Support for playing back recordings on deleted channels
Notification messages for changes in system time zone on QVR Pro
Server dashboard (when connected to QVR Center)
Playback control via the keyboard (space and arrow keys)
Support for displaying camera locations and event notifications on e-maps Support for selecting the format of export files
Support for 2-step verification
Cross-platform support: Windows, macOS, Ubuntu, QNAP HybridDesk Station
QVR Pro Client (Mobile)
Instant switch between Live and Playback modes
Cross-platform support: Android and iOS
Various advanced monitoring options, including sequential mode, PTZ control, auto cruising, and preset point control
Support for receiving Instant push notifications Support for displaying camera locations on e-maps
Server dashboard that displays NAS information, camera status, and recording space status.
QVR Center
Support for managing up to 128 QVR Pro servers (QVR Pro Gold license required)
Statistical graphics for visualizing event data
Log management for all added servers
Integration with QVR Pro Client for central monitoring across multiple servers
Centralized views using cameras from multiple servers
Backward compatibility with Surveillance Station and VioStor NVR
QVR Guard
Failover solution designed for QVR Pro to ensure server availability
Viewing task details during the failover period
Automatic switch between Standby and Takeover modes based on the QVR Pro server status
QUSBCam2
Support for configuring USB webcams as ONVIF IP cameras (remotely manageable)
Support for monitoring live views (no other apps required)
Support for RTSP
Surveillance Station
Support for up to 5,000 IP cameras
2 free camera licenses
Instant playback for recent surveillance events
Visual options for e-maps
Playback speed control
Supporting for displaying preview snapshots on the timeline
Intelligent video analytics (IVA) for advanced video searching
Surveillance client designed for macOS
Mobile surveillance application (Vmobile) for iOS and Android
Mobile recording application (Vcam) for iOS and Android
QVPN Service
Support utility and Mobile apps for Windows, Mac, iOS, Android.
VPN server
VPN client
DLNA Server
Support for DLNA/UPnP TVs and players such as PlayStation 4 and Xbox One
Support for CUE indexing file for APE and FLAC
Q'center (NAS CMS)
Monitoring of multiple NAS devices
Utilization history reports
Unified configuration management
Monitoring of NAS devices behind NAT routers with Connect to Q'center
Qfinder Pro
QNAP NAS location on the same local network
NAS shared folder mounting
Basic setting configuration (firmware, SMTP server, and network settings)
Storage Plug & Connect (Windows only)
Media upload (Windows only)
App Center
Official and community software add-ons
Automatic updates and notifications for new versions
Repository for imported third-party content
User-specified volume for storing applications
AirPlay & Chromecast
Video, photo and music streaming to Apple TV or Chromecast using the following
Download Station
PC-less downloads (BitTorrent, FlashGet, FTP/FTPS, HTTP/HTTPS, QQDL, and Thunder)
BitTorrent: Support for search, magnet links, private trackers, and proxy
Scheduled download and bandwidth control
RSS subscription and download (broadcatching)
Support for add-ons that extend download functionality
Qget: Mobile application for download browsing and management
Notes Station 3
Insert Evernote Notes in Notes Station 3
Enable Embedding YouTube video into Notes
Table creation using the insert table editor
Qcontactz
One-way scheduled sync of contacts from multiple Google accounts
Contact importing from CSV or vCard 3.0 files
Contact exporting to CSV or vCard 3.0 files
Duplicate contact searching and merging
Contact management: Groups, favorites, lock, search, delete and restore
Support for Android and iOS
IFTTT Agent
Daily task automation
Social media data archiving
File synchronization between the NAS and various cloud services
System event notifications on Line, Skype, Gmail, and mobile phones
Music playback on Music Station using Amazon Echo voice commands
Usage of motion detection sensors as trigger for camera recording on Surveillance Station
Qmiix Agent
Trigger based file synchronization between the NAS and various cloud storage services
View miixes made using the Qmiix web portal that include triggers and actions involving QNAP apps.
Create miixes for web-based and NAS-related apps.
Create miixes on the Qmiix web portal that include File Station, a QNAP app
System event notifications to Line, Skype, Gmail, and mobile phones
Security Counselor
Multiple Security Policies (Basic/Intermediate/Advanced/Custom).
Checks NAS settings for security weaknesses.
Integrates with existing anti-virus services.
Integrates with existing anti-malware services.
Integrates with the Security Advisory service.
Malware Remover
Detects and removes malware from your QNAP NAS.
QIoT Suite
Launch your IoT application with the shortest time and least human force
Supports multiple protocols (MQTT, HTTP and CoAP) and dashboards, and allows for the quick connection of development boards along with multiple sensors
The graphical rules engine provides drag-and-drop blocks with connection nodes, making it flexible to form a workflow
The customizable dashboard offers great advantages to help monitor important information of connected IoT devices.
Added support for the OPC UA protocol, QIoT OPC UA Client: connects to OPC UA servers and QIoT OPC UA Server: communicates with OPC UA clients and transfers data
QRM+
Centralized Remote Management solution designed for IT Teams in every industry relying on networked computing devices.
Remote Management of Windows, Linux and IPMI compatible devices
Offers you threshold-based alerts to fix performance problems before they impact your users, applications and the business.
Supports many active monitors like CPU Utilization, Memory Utilization, Disk Utilization, CPU Temperature, CPU Fan speed, and many more, giving complete visibility for administrators across all the mission critical computing devices.
Enable you to benefit from higher productivity, better collaboration and faster recovery from device downtime or system performance
Support Android mobile app
General Notes
Designs and specifications are subject to change without notice.
Some features may vary by model.
QTS does not support DRM content and some IPv6 services.
Some data encryption features may be unavailable because of country-specific legislative restrictions.
Dane techniczne
| | |
| --- | --- |
| Gwarancja | 24 miesiące |
| Typ obudowy | Desktop |
| Typ zainstalowanego procesora | AnnapurnaLabs Alpine AL324 ARM® Cortex-A57 |
| Częstotliwość procesora | Czterordzeniowy 1,7 GHz |
| Pojemność pamięci | 4096MB |
| Rozbudowa pamięci | Tak |
| Pojemność pamięci dodatkowej | 16 |
| Typ dysków | 3.5" 2.5" SSD SAS |
| Maksymalna ilość dysków | 9 |
| Ilość zainstalowanych dysków | 0 |
| Dyski hot-swap | Tak |
| Złącze sieciowe | Gigabit |
| Liczba portów sieciowych | 2 x RJ45 |
| Złącze sieciowe 10Gbit | Tak (opcja dodatkowo płatna) |
| Wake on LAN | Tak |
| Porty USB | Tak |
| Liczba portów USB 3.0 | 3 |
| Wirtualne sieci LAN (VLAN) | Tak |
| Snapshot | Tak |
| Obsługa kamer IP | Tak |
| Moc zasilacza | 250 W |
Pliki do pobrania
Opinie o produkcie (0)